About Us
Owners Who Get Customers Back on Their Feet
911 Restoration of Everett is owned by brother-in-laws Anton Grayfer and Eduard "Ed" Minchuk. They both immigrated to America in 1997 with their families when they were kids and have lived in the Seattle area ever since. Over the last couple of decades, the two men have only grown as business partners, working in construction. With their familial ties, there is nothing they can't accomplish together, which is what brought them to 911 Restoration.
Anton and Ed both came to love what they do and wanted to give back to the community after having worked together flipping houses while growing their families. Anton has two children, a daughter and a son, while Ed has two boys and a cat. While they enjoyed flipping houses, the opportunity to open a new 911 Restoration franchise in Everett allowed them to help property owners get back on their feet after a disaster occurs. This, they feel, is a worthy mission they're excited to pursue.
As the owners and operators of 911 Restoration of Everett, Ed and Anton are able to help deliver needed relief for both residential and commercial property owners. The company provides water damage restoration, fire damage restoration, mold removal, and emergency restoration, among other services. Part of their success lies in being surrounded by the best talents around, since every technician is IICRC certified to meet the most stringent standards within the industry. 
Both Anton and Ed bring a deep understanding of houses and buildings and how they should function, thanks to their decades of construction and house flipping experience. As such, they have a unique insight into what it takes to truly restore any property to good as new. In addition, Anton brings a degree in finance with seven years of accounting experience, making him perfectly suited to ensure operations are managed so there's never a gap in services provided.
When not directly providing relief to the residents of Everett and the surrounding areas, both owners love to volunteer and get involved with the community as part of their approach to ensuring everyone is left better than before. This dedication to others is what inspired them to invest in the Fresh Start philosophy championed by 911 Restoration. This commitment is why no emergency restoration is too big or small for Anton, Ed, and their team.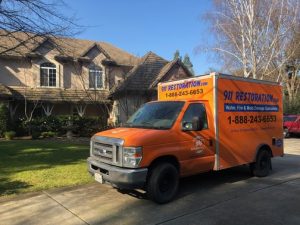 Bringing it all Together
In addition to the Fresh Start motto 911 Restoration provides its customers, Anton and Ed are determined to bring the best service possible thanks to the lessons they've learned in their experience. They bring an ability to handle any size job along with the ability to complete it quickly. If there's one thing this capable duo believes in, it's to focus on the customer's experience and their needs.
That's why the technicians at 911 Restoration of Everett are committed to arriving within 45 minutes of your call to get started on your disaster restoration. No matter if it's day or night, you can count on 911 Restoration of Everett to assist with your restoration 24/7/365. Ed and Anton believe that true restoration isn't possible unless they put themselves in the customer's shoes. They understand what you're feeling during such a challenging time, which is why they insist that every job is approached as if it was their own house with the personal care and attention you deserve.
Thanks to our technicians' superior training and experience, we deliver a flawless restoration no matter the problem. Whether it's water damage, mold infestation, or a complete disaster, our technicians at 911 Restoration of Everett have you covered from start to finish for a Fresh Start you can believe in.
Understanding the Care of 911 Restoration of Everett
When Ed and Anton claim to provide true care and understanding for their customers, it's not just a nice phrase. It's a mission. They've been through the pain and struggles our customers face, and always desire the same service they look to provide. To that end, they've developed a set of standards they refuse to compromise on while restoring your property.
Both believe that true success can't be achieved without committing to the truth. Ethics and honesty are what customers need when facing an uncertain situation. That's why we take the time to answer any question our customers have in addition to walking them through various processes including the insurance claims process.
We can't promise to provide care and understanding without walking the talk. With Ed and Anton at the helm, that's one promise we can deliver every single time without compromising the quality of work needed to restore the property to good as new. For every situation that occurs, you can count on Ed, Anton, and their team to deliver peace of mind and the Fresh Start you deserve.