Commercial Restoration
Do you need help handling commercial property damage in Everett? You can get the assistance you need with commercial restoration from 911 Restoration of Everett. Our IICRC certified technicians can offer you a Fresh Start after you experience a flood, fire, pipe burst, or mold infestation. Get the assistance you need 24/7/365 by calling us. Crews can reach your commercial property within 45 minutes of an emergency call.
Here at 911 Restoration of Everett, technicians are licensed, bonded, and insured to handle commercial property restoration. You can rely on us to offer you same-day services if you need:
Fast water extraction
Drying and dehumidification services
Assistance with mold remediation
Help completing fire damage restoration
Commercial property owners in Marysville have special needs after they experience flooding, storm damage, or a fire. You can get the assistance you need quickly from 911 Restoration of Everett. As a locally owned and operated company, we are prepared to quickly begin water damage restoration, fire cleanup, and mold removal.
911 Restoration of Everett understands how important it is to get you operational again as soon as possible after you experience a commercial property disaster. Everett commercial restoration specialists work around your schedule so you can focus on running your business and serving your customers.
Reduce the total damage to your commercial property by getting fast help when you need it most. Reach out to 911 Restoration of Everett anytime of the day or night to get help with flood cleanup, smoke removal, and mold decontamination.
What Happens in Commercial Water Damage Restoration in Everett?
Commercial properties require specialized support after a water damage event in Everett. Water cleanup crews at 911 Restoration of Everett come prepared to handle all of your needs after a pipe burst, ceiling leak, or basement flood. Crews can work with:
Professional-grade pumps for water extraction
Dehumidifiers and fans to dry out your property
Infrared scanners to check for hidden moisture
Specialized cleaners to disinfect your business
Sewage backups can be a major concern for commercial properties in Snohomish. 911 Restoration of Everett can take care of sewage cleanup with same-day services. Crews can focus on removing raw sewage and eradicating odors, so your customers are not disturbed by the restoration process.
Techs are also trained to handle commercial mold removal. Mold grows fast in damp areas, so you can reduce the odds of a fungal outbreak by quickly drying out your property after a flood or sewage spill. However, if mold spreads in your commercial property, 911 Restoration of Everett is here to wipe it out.
Allow us to look for fungal growth with a mold inspection in Marysville. Mold removal techs know where to find mold and can even check under your floors and behind your walls. Crews work diligently to complete mold remediation fast. We can even handle odor removal after a mold outbreak. Find out more about how water damage restoration and mold decontamination crews can help by calling us now.
Can You Start Commercial Fire Cleanup in Everett Today?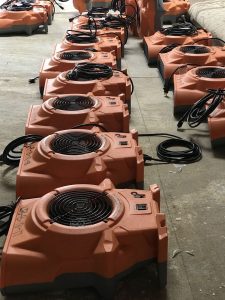 You can begin fire cleanup for your residential property with same-day services from 911 Restoration of Everett. Getting help quickly with fire damage restoration has a number of benefits for you. Securing professional help immediately can reduce the total damage caused by a fire.
Fire cleanup specialists can board up your business, focus on emergency roof repairs, and pack out your undamaged inventory. Taking these steps can prevent the elements from damaging your commercial property following a fire.
Additionally, getting help quickly from commercial restoration experts can allow crews to handle water cleanup for sprinkler water damage and issues caused by fire hoses. This can prevent a mold outbreak following a commercial fire in Snohomish.
Finally, getting prompt help with commercial fire damage restoration can make it easier to seek insurance coverage. Insurance companies are more likely to cover your fire cleanup costs if you sought help immediately and took steps to prevent additional damage from occurring in Marysville.
Get help with fire cleanup and water damage restoration in under an hour from 911 Restoration of Everett. Crews can race out to your commercial property. Once they arrive, techs can perform a damage inspection to assess your unique needs.
Here at 911 Restoration of Everett, our IICRC-certified experts put your first. Allow us to individualize your commercial restoration services. Crews focus on providing you with the repair and renovation services you need, so you can reopen your doors quickly and get back to serving your customers.
Serving the communities of Anacortes, Arlington, Camano Island, Everett, Lake Stevens, Marysville, Monroe, Mount Vernon, Mukilteo, Snohomish and surrounding areas.