Mold Removal
Make sure you're ready to handle a mold infestation in Everett by contacting the professionals. You can reach 911 Restoration of Everett 24/7/365 to get help within 45 minutes in Marysville, Snohomish, or any surrounding areas in Washington. Secure a Fresh Start by contacting our IICRC certified mold remediation specialists in Everett any time of the day or night.
911 Restoration of Everett can help if you're dealing with a commercial or residential mold outbreak. Crews can assess your needs with a free visual mold inspection for property owner's only. Once mold remediation specialists complete your mold inspection, they can:
Pack out and store items not infested with mold
Quarantine all areas with mold growth
Set up air filters to get rid of mold spores
Complete mold decontamination and odor removal
Mold remediation specialists are also trained to deal with the underlying causes of a mold outbreak in Marysville. Water damage emergencies, like a flood or pipe burst, can encourage the growth of mold in your property. Handling water extraction quickly and dehumidifying your property can lower the odds that you'll face a fungal outbreak in Snohomish.
911 Restoration of Everett is a full-service property restoration company. Our crews can handle both water damage restoration and mold removal service in Everett. Crews can eradicate all evidence that you experienced property damage. You can even rely on us to remove odors and unsightly blemishes left behind by fungal growth. Contact us now and get back your peace of mind quickly.
How Quickly Should You Start Mold Remediation in Everett?
It's important that you begin mold damage restoration in Everett as quickly as possible after you notice signs of fungal growth. Mold will keep spreading until it is stopped, so the damage to your property will increase until you get professional assistance.
Fortunately, mold decontamination experts at 911 Restoration of Everett are available around the clock. We offer same-day services for commercial and residential clients throughout Snohomish, Marysville, and surrounding areas.
Crews can identify all areas experienced fungal growth with a mold inspection in Everett. We can then quarantine all areas with mold to ensure that the fungus doesn't continue to damage your home or business. Techs have the equipment and resources to stop mold in its tracks.
Mold removal specialists at 911 Restoration of Everett are licensed, bonded, and insured to provide you with the care you deserve. You can rely on us to dry out your property after a water damage event and to wipe out all evidence of mold growth.
You can also speak with us about your insurance policy. In many cases, property owner's insurance covers mold remediation in Everett. However, if you wait to begin the mold cleanup process your claim could be denied.
The experts at 911 Restoration of Everett have experience working with insurance companies in our area. Everett mold removal specialists can offer you advice about your claim. Everett mold cleanup specialists may even be able to help you make a list of belongings damaged by the mold growing in your home or business for insurance itemization.
What Types of Mold Grow in Everett?
There are many different strains of mold in the world. The Washington State Department of Health reported that there were more than 100,000 types of mold in nature. Not all of these kinds of mold are likely to grow in your property or affect your health. Some of the more common types of mold that you may be concerned about include:
Aspergillus
Acremonium
Penicillium
Stachybotrys
Trichoderma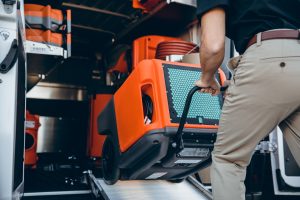 The above types of mold can lead to allergic reactions. Some types of mold – such as Stachybotrys – are actually toxic. They can lead to severe respiratory issues if you are exposed to their spores or if you touch them.
Mold removal pros at 911 Restoration of Everett can wipe at all forms of mold from your property. Crews can identify the location of mold with a mold inspection. They can then begin prompt mold decontamination in Everett, regardless of the type of mold growing in your home or business.
We can disinfect and scrub down all surfaces exposed to mold growth. Crews remove items infested with mold during the mold cleanup process in Snohomish. Some items may be cleaned, while others may need to be disposed of. Once your possessions are clean, they can be returned to your home or business.
Allow us to handle mold decontamination and odor removal in Marysville and surrounding areas. We're ready to repair water damage, remove mold, and bring your property back to perfect condition. Get professional help and same-day services by calling us.