Water Damage Restoration
You can get same-day help with a flood, ceiling leak, or pipe burst in Everett. The professionals at 911 Restoration of Everett are here to offer you a Fresh Start today. Water damage restoration crews are IICRC certified and ready to reach your property within 45 minutes of an emergency call, 24/7/365.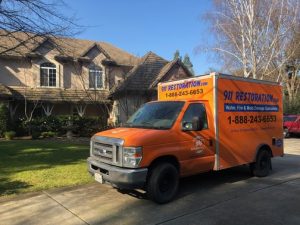 All water damage restoration experts at 911 Restoration of Everett are licensed, bonded, and insured. Everett flood cleanup professionals can:
Remove water if you have a flooded basement in Everett
Repair frozen pipes and ice dams in the winter
Handle business and home flooding
Disinfect your property after a sewage backup
Take care of mold removal from a wet basement
Water damage events can result in mold growth in Marysville, Snohomish, and surrounding areas. Fortunately, we can take care of water damage restoration and mold remediation in Everett. Crews work aggressively to return your property to better-than-new condition, no matter what caused the damage to your home or business.
Getting fast help handling a flooded basement in Everett can limit the total damage to your property. Beginning prompt water extraction also reduces the odds that you'll experience a mold outbreak. Additionally, your insurance company is more likely to cover water damage cleanup if you begin the process right away.
You can reach out to 911 Restoration of Everett around the clock. Crews are ready to handle water removal, sewage cleanup, flooded bathrooms, and more whenever you need help. Find out more by contacting us today for flood cleanup and mold decontamination services.
What Can You Expect from Flood Cleanup in Everett?
Flood cleanup specialists at 911 Restoration of Everett personalize the services you receive to ensure your property is returned to better-than-new condition. Techs generally start the clean-up process by offering you a free water damage and mold inspection for property owners only.
Techs base the services you receive on the results of your water damage and mold inspection in Everett. Based on your needs, crews may:
Stop additional water from entering your property
Remove water in your property with professional-grade pumps
Use dehumidifiers and fans to dry your property
Repair damage caused by excess water
Handle total mold removal and decontamination
Mold remediation in Everett is often necessary following water damage emergencies. For example, if you have a flooded basement it can quickly become a breeding ground for mold. Once established, mold can spread under floorboards and behind walls in Marysville.
Fortunately, 911 Restoration of Everett specializes in mold decontamination services. We can dry out your basement, handle mold remediation, and take care of any odors left by fungal growth. Everett water damage restoration and mold removal crews focus on eradicating any sign of property damage.
Make sure you get the assistance you deserve by contacting a locally owned and operated flood cleanup company in Snohomish. Our techs are ready to help with a pipe burst, sewage backup, or mold outbreak. Contact us and put ceiling leaks, a flooded basement, or ice dams behind you.
What Are the Benefits of Professional Mold Removal in Everett?
Everett mold removal professionals can eradicate all signs of fungal growth from your home or business after a flood, sewage backup, or pipe burst. Mold remediation techs at 911 Restoration of Everett have years of experience and training wiping out fungal infestations.
Crews can check your property over with a mold inspection as they work on flood cleanup in Everett. Mold decontamination experts can search every inch of a flooded basement for evidence of fungal growth. Working with professionals can reduce the odds that mold will go unnoticed and continue to spread.
Everett mold decontamination experts are also trained to handle toxic forms of mold. Handling toxic molds without the correct protective gear can lead to serious health issues in Marysville. Allow us to isolate any areas of your property with mold growth to stop the spores from spreading into inhabited areas.
The experts at 911 Restoration of Everett can also perform a final mold inspection after the restoration process is completed. This final inspection can ensure your property is back in better-than-new condition.
Allow us to erase all evidence that you experienced a flooded basement, a pipe burst, or a sewage backup. Techs can dry out your property, repair water damage, complete mold remediation, and focus on putting your needs first. Contact us now to start water damage restoration and mold decontamination in Snohomish and surrounding areas. Get the Fresh Start you deserve from property restoration specialists who value your peace of mind.
Serving the communities of Anacortes, Arlington, Camano Island, Everett, Lake Stevens, Marysville, Monroe, Mount Vernon, Mukilteo, Snohomish and surrounding areas.