Water Damage in Everett
Weather Alert: If you are experiencing weather-related damage from the storm, call us today for emergency assistance!
911 Restoration of Everett
Get a Fresh Start after a property disaster in your home or business by contacting 911 Restoration of Everett. In fact, our IICRC certified restoration crews are standing by to take your call 24/7/365. Our techs are prepared to race out to your property in Everett, Snohomish, Marysville, and surrounding areas within 45 minutes. Call us at (425) 650-1257 for water damage restoration in Everett.
You can contact 911 Restoration of Everett if you're dealing with water damage, fire damage, mold infestations, or a sewage backup.
At 911 Restoration of Everett, we offer a Fresh Start with our comprehensive selection of property damage restoration services, including but not limited to:
Whether you're a Everett homeowner or business owner, 911 Restoration of Everett is your Fresh Start! We'll communicate with you throughout the entire process, help answer questions related to insurance, and restore your property to its pre-damaged condition. One of our IICRC-certified teams is dispatched within 45 minutes of your call! Contact us today, and one of our friendly representatives will assist you in finding the nearest Everett location.
Macey Shea
"Thanks, 911 Restoration for such a quick and courteous service!!! Hands on to the guy who fixed the water damage issue and charged me with a reasonable price. It was a great experience dealing with them, and in future, if I ran into some other kind of damage I'll surely contact them for help!!!"
Water Damage Restoration in Everett
Water damage can cause tremendous damage to properties in Everett, Marysville, and the surrounding areas. You need to get professional help after a pipe burst or winter storm. Fortunately, 911 Restoration of Everett offers water damage restoration services in Everett less than an hour.
You can contact us when you need help with flood cleanup and water extraction. Techs can assess your needs with a water damage inspection. Crews bring along pumps to quickly remove water and dehumidifiers to dry out your property.
No matter when you call, our water damage restoration technicians will arrive at your house in 45 minutes or less. We'll pack out and store your belongings to avoid further damage, and once water removal is complete, our professionals will bring in the best equipment to dry out your property completely.
All the water damage specialists at 911 Restoration of Everett are licensed, bonded, and insured. You can count on us to erase all evidence of a flooded basement, frozen pipes, or a roof leak. Get help right now with water damage restoration to limit the damage to your property in Everett. Call us at (425) 650-1257 and see how we can help.
Service area map
Sanitization Services & Disinfection Solutions
With the coronavirus spreading around the Everett area, businesses and individuals are faced with the unique challenges of owning property during a pandemic. Whether you self-quarantine, practice social distancing, or order takeout instead of visiting a restaurant in-person, it's important for everybody to do what they can to help prevent the further spread of the virus.
Business owners can give their customers and employees peace of mind by hiring the professionals at 911 Restoration of Everett to sanitize their business. Our IICRC-certified team is trained on cleaning in order to help reduce the risk of germs, following current CDC and EPA guidelines and protocols. Coronavirus has already made a huge impact on the Everett area's businesses. Let 911 Restoration give you the peace of mind you deserve.
Mold Removal
Mold causes property damage and can threaten your health in some situations. 911 Restoration of Everett can begin mold removal quickly. You can reach out to us around the clock to get the assistance you need. Our crew will:
Complete a mold inspection
Isolate areas with mold growth
Decontaminate your home or business
Mold removal in Everett involves odor removal. Mold remediation experts can also remove any stains left behind by spreading mold. Additionally, the pros at 911 Restoration of Everett can work to repair the underlying cause of a mold outbreak.
Because many varieties of mold can be hazardous to you, your family, and your customers' health, our technicians take care to stop the spores from spreading around your property. In addition, to complete mold remediation, we will also dehumidify the entire building to prevent another infestation in the future.
Generally, mold grows in areas that are dark and damp. A flooded basement could be the perfect environment for a mold outbreak. Get help with water extraction and mold removal in Everett by contacting us now at (425) 650-1257. We'll handle both commercial and residential mold decontamination for you.
Sewage Backup and Cleanup
Blackwater – or water exposed to pathogens found in human waste – must be cleaned up carefully. Sewage cleanup techs at 911 Restoration of Everett have the training and experience to handle sewage backups for you.
All techs at 911 Restoration of Everett have the personal protective gear (PPG) necessary for sewage removal. Crews scrub down areas exposed to toilet water damage and know how to properly dispose of raw sewage.
Additionally, we can repair any water damage caused by a sewage backup in Marysville. Allow us to focus on sewage cleanup and water damage remediation so you don't have to worry about exposure to sewage. Crews can even look for signs of mold growth after a sewage backup in Everett. Take charge of your future by contacting us today.
Fire and Smoke Damage Restoration
Do you need help recovering from fire and smoke damage in Snohomish? The assistance you need is only a phone call away at 911 Restoration of Everett. Fire damage experts are standing by to race out to your property.
We can offer you a free fire damage assessment and free insurance consultation. Everett fire damage restoration crews can pack out and store your undamaged belongings to limit the damage to your property.
When a fire happens, your property will probably have to undergo water damage restoration and odor removal, too. Sprinklers and fire hoses can cause a surprising amount of damage to your property, and smoke can leave a lingering odor that is difficult to get rid of without professional help.
Your property can be returned to better-than-new condition after a commercial or residential fire in Marysville, call us at (425) 650-1257. Fire damage remediation experts can even handle repairs for damage caused by a fire hose and sprinkler systems. Let us take on structural and aesthetic damage after a fire in Everett so you can get back your peace of mind.
Disaster Restoration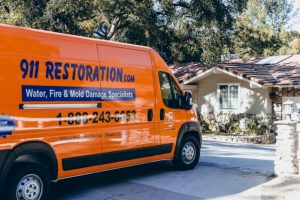 Property disasters can strike without warning in Everett. A flood, plumbing backup, fire, or mold outbreak can result in serious property damage. Of course, getting help quickly can reduce the total damage to your property. 911 Restoration of Everett offers:
pack out and storage service
boarding up
roof repairs
water extraction
Everett water damage restoration crews continue to focus on your needs after a disaster in Snohomish. Here at 911 Restoration of Everett, we don't consider any disaster too big. Besides, our crews have access to cutting-edge equipment that can get rid of excess water, repair fire damage, eradicate mold, and renovate your property.
Commercial Restoration
911 Restoration of Everett offers same-day commercial restoration services to business owners in Snohomish, Marysville, and surrounding areas. Commercial restoration crews have the training and experience to handle business flooding, fire damage, mold growth, and sewage backups.
Of course, we understand that commercial water damage and fire damage restoration in Everett require special considerations. Crews come to your property armed with the equipment necessary to remove large amounts of water and to quickly handle smoke, ash, soot, and smoke damage.
We also know what it takes to complete commercial mold removal in Marysville. In fact, our techs can isolate areas of your business with mold growth and even pack out your inventory so it cannot be infested by spreading mold. Once your property is restored, we can return your inventory so you can get back to serving your customers.
Here at 911 Restoration of Everett, we'll carry out water damage remediation and sewage cleanup around your schedule. Find out more about how we can help by contacting us today for residential or commercial property restoration services. Call us at (425) 650-1257 and see how we can help.
Serving the communities of Anacortes, Arlington, Camano Island, Everett, Lake Stevens, Marysville, Monroe, Mount Vernon, Mukilteo, Snohomish and surrounding areas.