Disaster Restoration
You don't have to try to handle a property disaster on your own in Everett. You can get help 24/7/365 from the professionals at 911 Restoration of Everett. Contact us anytime of the day or night to get help from IICRC certified property restoration crews within 45 minutes. We offer a Fresh Start to both residential and commercial property owners in Marysville, Snohomish, and surrounding areas.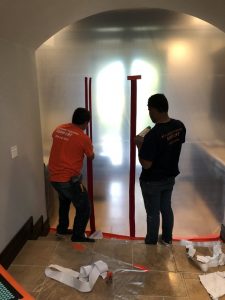 You can reach out to us right now if you need assistance with any type of property disaster. Our crews are licensed, bonded, and insured to take care of:
Business and house flooding
Disaster cleanup after a pipe burst or sewage backup
Fire and smoke damage
Commercial and residential mold infestations
Property restoration crews move quickly to limit the total damage to your property in Marysville. We can begin water damage restoration, fire cleanup, and mold removal in under an hour for your property. Offering same-day disaster cleanup services in Everett means you can quickly get back your peace of mind.
Techs can also pack out and store any of your belongings that were not damaged in a property disaster. Allow us to keep your possessions safe as crews complete flood cleanup, fire damage restoration, or mold remediation. Once your property is fully restored, techs can return your belongings in Snohomish.
No job is too big or too small for 911 Restoration of Everett. Reach out to us now and crews can race out to your property to assess your needs with a property damage assessment.
Why Get Professional Help with Water Damage Restoration in Everett?
Flooding, pipe bursts, and sewage backups can lead to water damage disasters in Marysville. Fortunately, you do not have to deal with water damage on your own. The water damage restoration specialists at 911 Restoration of Everett can help you handle frozen pipes, sewage spills, and even basement flooding.
Getting professional help with flood cleanup can limit the total damage to your property. Crews can also complete water damage restoration in Everett quickly, allowing you to get back to your day-to-day life. Flood cleanup experts can ensure that all areas of your property are fully restored, preventing additional property damage in the future.
You should be aware that excess levels of moisture left behind by basement flooding, a pipe burst, or a ceiling leak can allow mold to grow in your property. Getting professional help with dehumidification can reduce the odds that you will experience a mold infestation.
However, if you do spot signs of mold in your home or business, 911 Restoration of Everett is here to help. Our techs are trained to handle mold decontamination quickly and thoroughly. Crews can even get rid of molds that cause allergic reactions and toxic molds.
Allow us to focus on storm restoration in Everett after a flood, sewage backup, or pipe burst. Disaster cleanup contractors in Everett are standing by to extract water, dry your property, repair water damage, and offer you a Fresh Start.
Can You Recover from Fire Damage in Everett?
Disaster cleanup contractors in Everett can help if you experience fire damage to your home or business. The destruction caused by a fire does not have to be handled alone. You can get professional help renovating and restoring your property in Snohomish right now.
The fire cleanup experts at 911 Restoration of Everett are ready to spring into action to restore your property. Crews can:
Provide you with a free fire damage assessment and insurance consultation
Pack out and store all of your undamaged belongings
Handle ash, soot, odor, and smoke removal
Repair structural damage caused by fire
Complete fire damage restoration with soda blasting
Everett disaster restoration specialists understand what it takes to handle the destruction caused by a fire. Techs can even help you handle water damage cleanup. We know that water hoses and sprinkler systems can cause damage in a fire, but this destruction can be repaired by highly trained experts.
Crews are even ready to take on mold remediation after a fire damage event. Allow us to help with everything from emergency roof repairs to the removal of odors after the damage has been fully repaired. 911 Restoration of Everett will work aggressively to make sure your property is brought back to better-than-new condition after a property disaster.
Get the assistance you need with same-day water damage restoration services in Marysville, Snohomish, and surrounding areas. Allow us to give you back your peace of mind as crews work to fully renovate and restore your home or business after a pipe burst, flood, fire, or mold outbreak.
Serving the communities of Anacortes, Arlington, Camano Island, Everett, Lake Stevens, Marysville, Monroe, Mount Vernon, Mukilteo, Snohomish and surrounding areas.