Fire Damage Restoration
911 Restoration of Everett can help if you experience fire damage in your home or business. Our IICRC certified fire damage restoration specialists are on-call 24/7/365. Fire cleanups techs can reach your property in Snohomish, Marysville, and surrounding areas within 45 minutes of an emergency call. You can get a Fresh Start by contacting us right now.
Allow us to begin fire cleanup in Everett with same-day services. Our crews are ready to offer you:
A free fire damage assessment
A free insurance consultation
Access to a fire information center
Crews can pack out and store your undamaged belongings after a fire to keep them safe. Once your undamaged belongings are removed, we can begin thorough fire damage restoration as well as ash, soot, odor, and smoke removal in Everett.
You can rely on us to repair fire and smoke damage to your home or business. We utilize cutting-edge sodablasting techniques when carrying out fire and smoke restoration in Everett. Our goal will always be returning your property to better than new condition.
You can also contact us if you had a furnace malfunction in your home or business. Crews are licensed, bonded, and insured to handle puffback cleanup in Everett. We understand how damaging soot and ash from a furnace misfire can become. Allow us to handle all aspects of ash and smoke removal. Puffback cleanup experts can even remove smoke odors as they renovate your home or business.
How Can Everett Fire Cleanup Techs Help You?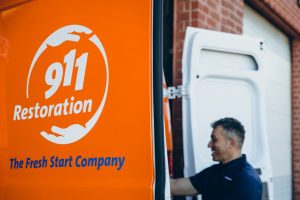 Fire cleanup specialists in Snohomish can bring your property back to better-than-new condition after a fire. The professionals at 911 Restoration of Everett are trained to deal with both commercial and residential fire damage. Crews can:
Assess your needs with a fire and smoke damage inspection
Take care of emergency roof repairs and boarding up
Handle fire damage restoration with sodablasting
Focus on odor, soot, ash, and smoke removal
Here at 911 Restoration of Everett, we also understand that fires can result in water damage. Firefighters often use large amounts of water to put out a fire. Additionally, sprinklers in your home and business can cover your possessions with dirty water.
You can contact us to handle water extraction and cleanup after a fire. Crews can quickly pump water out of your property, dehumidify your belongings, and complete water damage restoration for you. Removing water quickly after a fire can limit the damage to your home or business in Marysville. It can also limit the odds that mold will grow in your property following a fire damage event.
Finally, no job is too small or too large for our fire and smoke restoration experts. Reach out to us after a large fire or if you need help with puffback cleanup. Crews can reach your property in under an hour to offer you the services you need. Get personalized assistance with fire and smoke damage so you can move forward with a fully renovated property.
Will Insurance Cover Fire and Smoke Restoration in Everett?
Fire can cause a lot of damage to your home or business in Snohomish, especially if you also experience water damage or a mold outbreak. Fortunately, your property owner's insurance will typically cover fire cleanup and smoke removal services.
The experts at 911 Restoration of Everett can offer you a free insurance consultation. Crews can help you list out items destroyed by the fire as you complete an inventory listing for your insurance policy. We can also directly bill your insurance company to reduce your stress levels during fire damage restoration in Everett.
Our fire and smoke restoration experts understand what you need after a fire. Crews focus on renovating your property and helping you handle issues with your insurance policy, so you can get back your peace of mind.
We are prepared to handle soot and smoke removal if you need assistance with puffback cleanup. Allow us to wipe away all signs that you experienced fire or smoke damage here in Marysville. You can also rely on us to remove water from fire hoses, to destroy mold growth, and to handle all of your other restoration needs.
Moving quickly to handle fire and smoke damage in Everett can ensure your property is returned to the perfect condition you deserve. Get same-day help with fire damage restoration by contacting us around the clock. Crews arrive within 45 minutes to start fire cleanup and to provide you with the Fresh Start that you deserve. Reach out to us now to learn more about your options.