Prepping Your Outdoor Plumbing This Fall For Tornados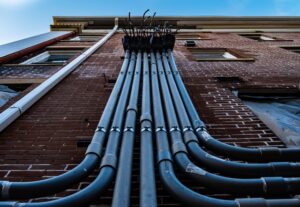 With fall officially here, it's time for homeowners around the country to start planning their property's seasonal maintenance. Even though winter and Christmas are far off, the tornado season is here in Everett, Washington, meaning residents need to bring out their outdoor plumbing preparation to-do list. Lower temperatures, stronger winds, and more debris accumulation could lead to severe property damage if you don't take proactive measures before the season begins.
In this post, we'll share everything you need to know about prepping your outdoor plumbing this season for tornadoes.
How Tornadoes Damage Your Outdoor Plumbing
When mother nature strikes, there's nothing anyone can do to stop it. However, thanks to advancements in meteorology, we can predict inclement weather and either take proactive measures or control the damage. Outdoor plumbing is among the most vulnerable structures of any building and can be easily damaged when a tornado strikes in its vicinity. Here are three ways these supercharged thunderstorms can damage your outdoor plumbing:
1.    Water Supply Contamination
Tornadoes often bring about rain, which can easily result in a flood that can rupture your pipeline and contaminate the clean water with debris, microbes, and all sorts of pollutants. Even if you manage to repair the problem, it can still leave behind residue or smell in the pipes unless you call in experts with industry-grade equipment for the outdoor plumbing repair job.
2.    Backups and Clogs
A tornado can easily cause your sewage system to clog or accumulate debris, causing it to build up and overflow, causing a biohazard in your home. In many cases, the sewerage line can flood the basement and affect your plumbing as well, potentially incurring thousands of dollars in repairs if you don't act quickly.
3.    Weakened Building Structure
Even if your property and plumbing aren't damaged by the tornado, its impact can cause problems down the road by weakening the foundation, resulting in shaking, rattling, holes, and dents, etc. To ensure your outdoor plumbing's integrity remains unaffected, you need to call home restoration experts to assess your property and make minimal repairs, and mitigate the risk of escalated future costs.
How to Prep Your Outdoor Plumbing this Fall for Tornadoes
1.    Outdoor Water Hoses
Even during the fall, night temperatures in Everett, WA can easily go below 30 degrees causing the hoses to freeze and expand. This expansion can cause the pipes to break, especially if a tornado strikes and brings about powerful winds. To prevent this, all you have to do is disconnect your pipes, drain them, and store them in a dry area until the weather returns to normal.
2.    Outdoor Faucets
Once you've removed the hose, check for drips or leaks so you can fix them right away. The last thing you need is a severe plumbing issue before or after a tornado. To prevent them from breaking, you can cover them with a Styrofoam insulation kit, which will also protect them during the winter season.
3.    Valve Control
Most modern homes in Everett are equipped with an interior shut-off valve that controls the outdoor plumbing. In case, there's a tornado approaching, shut it off and open the outdoor faucet valve to ensure there is no excess water in the plumbing to cause an overflow.
4.    Seal Openings and Gaps
Before the fall season, take a stroll around your property to look for gaps between the walls and the pipes. These gaps can allow fast-traveling debris to strike the pipes and damage them. Therefore, you should seal all the gaps with insulation, weather stripping, tape, stripping, cement, or caulking.
5.    Shut Off the Main Water Supply and Empty Your Septic Tank
To prevent flooding or pipes from bursting after rainwater accumulation due to a tornado, you should turn off your main water supply and ensure that your septic tank can hold in any excess water from the storm without cracking or overflowing. If you feel like the water won't hold, you can call a sewage backup service to empty your tank before the season starts.
Renowned Plumbing Repair Services – 911 Restoration of Everett
Water damage from outdoor bursting pipes, sewer backups, and plumbing issues after a tornado can incur significant repair expenses and even compromise the structural integrity of your property. While there's no way to stop a tornado from striking, what you can do is make sure that your outdoor plumbing is well-maintained so it can sustain the damage.
At 911 Restoration of Everett, we know what is required to ensure that your plumbing and structure survive the storm. Our team of restoration experts can effectively stabilize and repair all types of damages and return your property to its original condition. We also have the latest tools and equipment to work quickly, mitigate all health and safety risks, and offer long-lasting solutions that can help you save money on future repairs.
Feel free to call us for more information regarding our outdoor plumbing preparation repair services.